Comprehensive Football Skills Instruction
New York Giants Youth Football Camps
Non-Contact Football Instruction and Fun for Kids ages 6-14
NEW TO OUR CAMPS?
With our station based training format, campers are divided by age and experience level so each receives the right level of instruction and support. We teach technique, skills and appreciation for all football playing positions.
We develop athletic skills, including individual passing, running, non-contact blocking and tackling. And we take pride in creative, effective, age-appropriate curriculum.
TEACHING
Kids will learn to run, throw, catch, defend, form block, form tackle and explode out of their stance with proper technique and improved speed. We run active camps so kids get multiple chances. With patience and encouragement, kids gain confidence and that's what it's all about.
THE BASICS

Full day camps operated from 9:00am-3:00pm, Monday-Friday.
Extended supervision is available.
All camps are non-contact with programs available for kids ages 6-14.
Comprehensive Skills and Accelerated Skills Sections–available at all locations.
Camps are led by professional educators, high school & college football coaches.
Supplemental instruction is provided by New York Giants Heroes.
See Hero/Director profiles for details.
Mornings feature "stationed based training" as kids are divided by age and experience level.
Afternoons feature team activities, skill games, mini-games, scrimmages leading up to Super Bowl Friday.
Camps maintain a 10:1 student-to-instructor ratio.
A certified athletic trainer is scheduled for all camp locations.
THREE CHOICES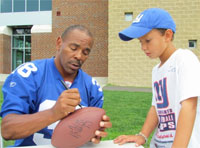 Comprehensive Skills Camps:Â  Ages 6-14.
For more, continue reading below.
Accelerated Skills Camps Ages 9-14.
For more, click Accelerated Skills
Position-Specific Small Group Instruction: Â  Ages 9-14
For more, click Small Group or Private Instruction

REALLY BIG EVENTS
New, Official NFL Punt, Pass and Kick Competition at every camp location!  Read more  
Meeting and learning from New York Giants Football Heroes
Super Bowl Friday and Awards Ceremony!
TACKLE FOOTBALL FUTURE?  LEARN FORM and FIT BLOCKING AND TACKLING
SAMPLE SCHEDULE
Team Theme: Playoff Football
Positional Theme: Defensive Backs
Hero Theme: Eric Dorsey
Note: Hydration breaks are scheduled every 20-25 minutes with frequency increased as required.  Campers may take a break for water or rest at any time during camp.
| | |
| --- | --- |
| 9:00 am | Dynamic Warm-Up |
| 9:15 am | Speed and Agility |
| 9:30 am | Offensive Skills Stations |
| 11:00 am | Team Play |
| 11:30 am | Lunch Break |
| 12:00 pm | The Super Bowl Triumph |
| 12:15 pm | Chief Scout Challenge |
| 12:30 pm | The Franchise Game |
| 1:00 pm | Dynamic Warm Up |
| 1:20 pm | Defensive Skills Stations |
| 2:15 pm | 7 on 7 Tournament Game |
| 2:55 pm | Reinforcements |
| 3:00 pm | Final Whistle |
Day in the Life of a Camper   / Speed Days   /Coaches & Heroes in Action
EXPANDED INDOOR CLASSROOM CURRICULUM!
In addition to expanded gymnasium activities, the following classroom curriculum enriches our teaching mission for routine days and days with inclement weather.
INDOOR "FOOTBALL LEARNING"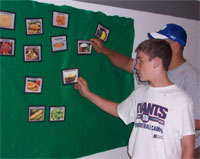 Five Questions with a Hero: Campers interview former NFL stars.

Hey Rookie: Being young, new and unsure…and making an impact.

Rapid Fire True or False: A fast-paced challenge based on field instruction.

Reaction Time: Making choices in split seconds.

Super Bowl History: The magnitude of the world's most watched event.

The Ball Hawk: Have a true sense for the game.

The Chief Scout: Act as NFL GM to build a dynasty.

The Franchise: Act as future NFL team owner.

The Play Maker: Outwit classmates with play calls and design.

The Ultimate Challenge: A Fun Team Trivia Challenge

Big Moments: Inside stories of great moments in team history.

Good Call: Learn what it's like to be an NFL referee.

Teamwork: Captains, coaches and leadership in the NFL.

The Think Tank: Focus on the good things you do.

Awards Ceremony: We reward all of our students for their efforts on and off the field.
INDOOR "LIFE LESSONS"
Being Invincible: How one team did not give up won a big playoff game.

Blunder to Thunder: Responding to extreme mistakes.

Breaking Labels: Why a scouting report or label often means nothing.

Goal Setting: The practice of setting goals.

Stormy Weather: How to deal with unexpected circumstances

To the End Zone: Beware of self-imposed limits.

When You Are All In: When you finally "get it," how you "keep it."
INDOOR "HEALTH SMARTS"
Pushing the Limits: What muscle groups build athletic skills.

Eat Like a Pro: Carbohydrates, Fat, Calories and Protein

Stay Hydrated: Hydration for safety and performance