NFL Punt, Pass and Kick now part of New York Giants Youth Camps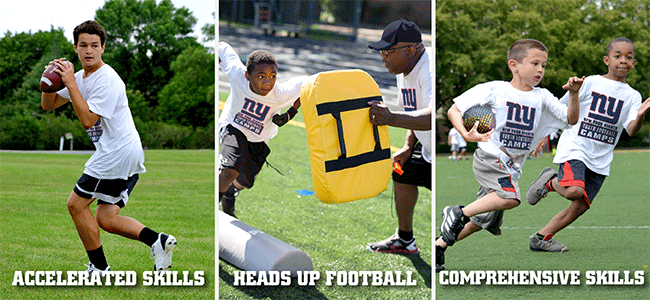 All New York Giants Youth Football Camps to Host
Official NFL Punt, Pass and Kick Competitions
*Winners advance to Sectionals.
*Sectional winners advance to Team Championship at MetLife Stadium.
*National Finalists visit NFL playoff game in January.
We are pleased to announce that all New York Giants Youth Football Camp locations will host NFL Punt, Pass and Kick Local Competitions.   All registered campers are eligible to compete.
"The NFL Punt, Pass and Kick program gives us a chance to put a national spotlight on some very talented athletes from all 28 Giants Youth Camp locations," says Mike Gross, Operations Director for New York Giants Youth Football Camps. "The competition will create tons of energy within our local programs.  The kids will be so excited to do well and our coaches will be equally excited to get the kids prepared.  That's a great mix for effective instruction and fun."
Every year more than 3 million youngsters nationwide compete in the NFL Punt, Pass & Kick program. NFL PPK offers boys and girls the opportunity to compete separately against their peers in punting, passing, and kicking contests (based on distance and accuracy) in Local, Sectional, NFL Team Championship, and National Final levels.
Sectional Competitions are conducted in October.  All NFL cities will host a Team Championship in their stadium during pregame or halftime of NFL games in late October, November and December. Boys and Girls Team Champions will be crowned in each age group.
For the National Finals, the top four scorers will be determined in the boys and girls divisions from all first-place finishers in each Team Champion age group. These Team Champions will advance to the National Finals at an NFL playoff game in January. A total of 40 participants will attend the National Finals.
"We would love it if a New York Giants Youth Camper made it to the big stage," says Gross.  "It would be really exciting for everyone involved, especially our kids and our coaches."
Basic Eligibility and Scoring
1. The NFL PPK Competition is open to all boys and girls ages 6 to 14 that are registered for New York Giants Youth Football Camps.  Boys and girls will compete separately.
2. The five age divisions are based upon the child's age as of December 31 of the current year. They are ages 6-7, 8-9, 10-11, 12-13 and 14.
3. Each participant will be allowed one punt, one pass, and one placekick as part of his/her competition.
4. Scores are based on both distance and accuracy. Example: If a participant passes the ball 100 feet, but the ball lands 30 feet to the right of the measuring tape, the final score would be 100 – 30 = 70. Scores will be based on exact feet and inches (no partial inches, round to nearest inch).
5. A participant's final score is his/her cumulative total for the three individual events. Example: If participant scores (40) for punting, (60) for passing, and (22) for kicking, the participant's final score is 122.
All New York Giants Youth Football Camps provide non-contact instruction for kids ages 6-14 years old.  For more information, contact Giants Camps at 877-226-9919.