The Pro Sports Experience Youth Football Blog
When a football coach loves the challenge–you can tell. Everyone can tell, especially the kids.
When it happens, we get these kind of responses.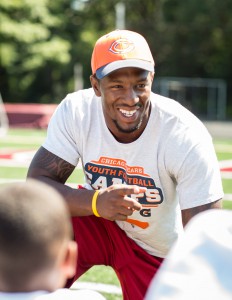 "We are super impressed with all the coaches. The outgoing and positive attitudes with smiles on their faces really makes a difference and they have great advice that applies not only to sports but everyday life as well. I was hoping this experience would pull my son out of his shell and it seems to be doing just that. They all seem to enjoy what they are doing. Today we stayed watched and everything was organized and together. The extra guest appearances are neat too! We will certainly be signing up again next year."     Parent of Chicago Bears Youth Football Camper, Frankfort, Illinois

CONTACT PRO SPORTS EXPERIENCE FOR KIDS
Pro Sports Experience partners: The Chicago Bears, Green Bay Packers, Philadelphia Eagles, NFL Alumni Association & USA Football.